So, just over a week ago, I posted here to ask about double-layered hats and double-pointed needles. Over the past week, I've been following this double-layer hat pattern from Ravelry (
http://webhome.idirect.com/~quanah/patdoublehat.html
) and I've got my gauge same as the person's. Just today I finally tied up my final loose end and tried fitting the hat on my head... but it's too small. Not just too small, but "squeeze my head till I feel dizzy" small. o_o
I've stuffed a towel into the hat at the moment and it measures roughly 19 inches around, but my head would optimally like a hat that's 23 inches around.
Is there any way I can do blocking and still achieve that result, or would I have to redo the hat entirely?
(I'm still too inexperienced to take a part of the stitches out and put more stitches in... if that works for this case.)
I'm not too upset about the hat being too small, as it's a test run for another hat I'm making, but it'd be useful if I could put this hat to some use rather than toss it aside 'cause it's too small. At the moment it seems suitable for the casing of some vase. o_O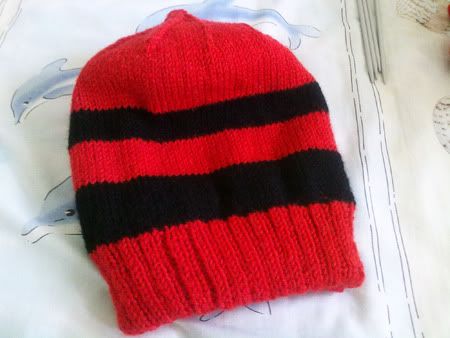 Thanks!
ETA: the yarn I used was 4.5mm pure wool, if that's any help!